Part 2
Time moves on with or without us
Time continues to travel without us consciously knowing. In the blink of an eye, I reached the stop that I was to get off. Knowing this part of the region, an idea loomed before me — that I should do a bit of research before I departed from Coimbra. (Editor's note: recall part 1 of the author's trip to Coimbra here)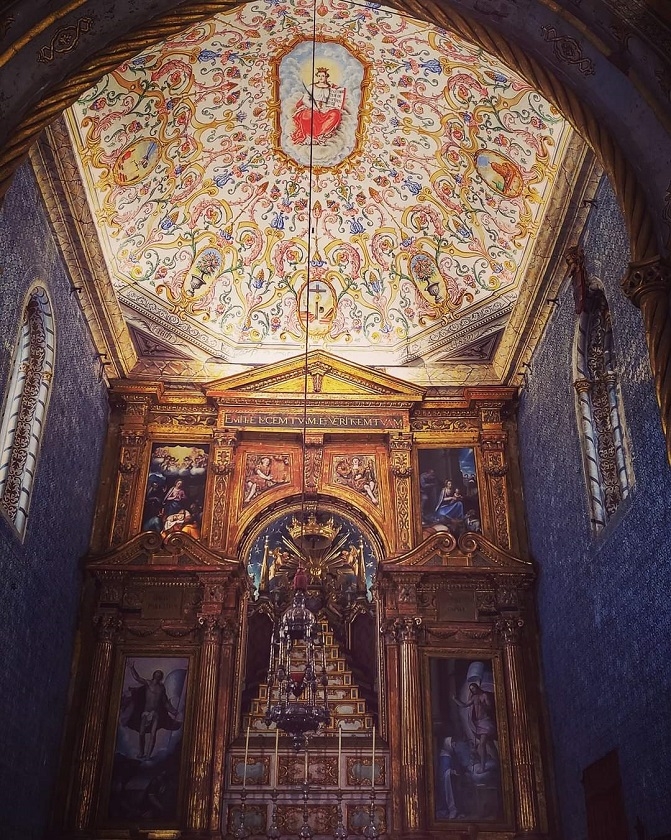 Coimbra Church
I made a call to the Spa hotel that I was staying and asked if I should pre-book a taxi. They said I could do that or catch one when I reached the train station. Alternatively, I might just walk uphill for about 10 to 15 minutes. From what I learnt from economics, we only have two choices for every opportunity to take. The idea of walking uphill was totally out of my league at a moment in time.
Thus, I told the hotel that I would prefer to pre-book a taxi. I was very pleased with my decision as soon as I landed my feet on the platform: it was a very simple train station, without anyone in sight. We could consider that the train stop was just transit, as there seem to be no ticketing office nor any waiting room around. What I saw were trees, mountains, forest and a few private cars parked by the entrance leading to the train platforms.
The taxi driver was already there waiting for me. It was a very welcoming 5 minutes uphill ride along the path twisted between mountains. I said to myself - what could have happened if I chose to get there on foot? Perhaps, I would have broken one Guinness World Record (of my own) for what I had achieved in 48 hours since I landed at Lisbon airport.
The reason I chose to stay in this area was that I read about the famous thermal water therapy of this spa town and the national forest nearby. The water comes from rain that lands on the Buçaco Mountain and filtered primarily through quartz stone. The water then descends underground more than 500 meters (1640 feet) where the water is heated to 30 degree Celsius before eventually coming up to the town.
The rainwater flows freely from fountains and springs in town. It is renowned for its healing qualities. The hypotonic and radioactive qualities of the water are cures for artery flow issues and all manner of ailments, from skin conditions to kidney function since the 18th century.
The peaceful charm of the forest attracted barefoot Carmelite monks seeking solitude and space for spiritual contemplation in the 17th century. Over 500 species of plant are still present in this national forest, which turned its status to become a national monument in 2017. t. Some of the trees even date back to the 16th century.
Nevertheless, what makes thermal bath so special is the effects of the natural mineral water used in the treatments. Because of its composition, it increases the body's natural defences. The water, of deep circulation, has its characteristics according to the rocky area from which it springs. The water only used once in treatments without any added compounds. According to their characteristics, each type of mineral water offers different therapeutically benefits. The characteristic of the water therapy that I was going to take was to improve the kidney system and refresh our sleeping quality, though I did not go there because of this healing reason.
I chose this particular hotel was because the thermal water therapy and spa connect directly to the wing of the main hotel premise, which I thought would be the most convenient way to go back and forth to the hotel where all dining services were included. Besides, in spring, occasional rain occurs. There is no point walking in the rain when there is not much sorrow to give away.
As soon as I left my baggage in my room, I rushed off to the Spa centre for the water therapy. The journey to this authentic and medical centre was already quite an experience – it connects through a tunnel – as if, it was a time travel adventure that led us to an ultimate personal transformation. From a more earthy perspective though, it is a very good design, as it shelters off any possible bad climate conditions that might happen.
I reached the reception desk after passing through this time machine. The woman there was very nice explaining to me all the details. Without a second thought, I chose the water therapy treatment that I always do whenever I am in Portugal. I do not think there is an official name for it, but Vicky shower and body massage (under the rain shower) was what I recognised.
The therapy takes 30 to 45 minutes to complete. A water therapist is there for the treatment. To me, this is heaven. If you have time, I would highly recommend anyone do two separate sessions to benefit from its fullest. Before this personal therapy session, you would be allowed to use other services such as the healing rooms: sauna, steam room, Turkish bath (with peppermint and other herbs), a colour lighting shower therapy in an individual room, two innovative hydro-power water therapy pools where I witnessed a guy doing regular test of the water quality.
At first sight, the Vicky shower with massage seems to be a moderate kind of water massage (if we compare it to an Asian one), which might lead you to cast doubt on its effectiveness. However, I can assure you that, if you complete 2 sessions of it, plus a 30 minutes steam room and hydro-massage experience in one of those hydro-massage pools, you would probably conclude that this would indeed be a no-pain-no-gain reward.
Like navigating our lives as it heaves from time to time, the night after the therapy sent me to some sweet dreams right away, but as soon as I woke up the next day, it just made me feel all the more regretful - my body (or rather, the muscles and joints) was in pain. The pain persisted the whole day, but the therapy session went on. A miracle happened in the morning after. All the pain suddenly disappeared without a trace — I guess this is what healing is all about. Healing takes time, and it is a process. We shall trust the process.
Time plays with time.
Yes, indeed. Sometimes, it might come as a surprise though: I realised I was staying in the same hotel as Benfica — Portugal's top football team — only the very last day when I was there. I did not know I had been dining in the same place as them days and nights. In the beginning, I thought they were just a group of local people taking breakfast and dinner at the same time as I was (and by coincidence, we were always being there at the same time). I did not realise they were football players from Benfica. There was no other customer in the restaurant other than this group of people and myself. I had been a bit baffled though as I did see other hotel guests hanging around in this hotel, but just not when I was in the restaurant. Since I was being on my own, the restaurant manager was with me during one of the dinners. We talked more about the Pavlova than anything about football.
Pavlova
It was until I saw the coach parked right outside the hotel that I realised they were from the football Club, and how much time I had "owned" being with them in the same space and time. The team was there for training – and they were clever. It is the best place to be, for training and therapy. As for me, I always miss the chance of getting any autograph, and this time made no exception, but at least, time brought me in.
I returned to that simple train station and planned to head back to Lisbon for another dimension of a holiday. While waiting for the train, a woman was asking me (instead of asking some other people around who look more like a native Portuguese than I do) what time the next train would arrive there in Portuguese. I told her it should come in 5 minutes. We then started talking. She told me she graduated from the University of Coimbra. She lived in Buçaco now but worked for the Municipal of Coimbra. I believed she could be a floral specialist too, as she told me a lot of history and story about the Buçaco national forest, the design and decor of this simple train station then and now, and certain flowers in Japan.
The Beira Alta railway line started operating in 1883. In 1888, a specific line made connecting the thermal baths from Luso. In 1913, the station was served by careers to Luso and Buçaco
In the 17th century, the barefoot Carmelites found this forest just like a "heaven and earth meets". Then, they chose to build a house and a cloistered space among the trees there. The harmony, lightness and softness of the forest are what represents Buçaco. It is beautiful looking at the land and it is beautiful looking at the sky too.
Cedar is a tree with very varied biblical connotations. Today, this national forest has more than 250 types of trees and shrubs. There are wild pines and arbutus, oaks and ferns, aderno and laurel, holm oak and redwoods. It is said that the famous Buçaco cedar came from Mexico. The specimens that remain today reach incredible sizes. The spirituality of this place grows as the Cedar does.
The journey of Spa, or healing, is indeed, a connection of time and its existence: an ancient intelligence, the magic of nature, human skills, our body and soul — knowledge and wisdom; energy and emotion. We healed not only because of the quality of the water but the fact that we embrace time. If you find this a bit too abstracted, if not delusional, try to walk through that journey yourself next time you travel to Portugal. You might be surprised about what you discover.
Time stretches.
Time does not stop when we thought it has come to a standstill.
Just a week ago, another football team (Sporting CP) finally won the Portugal national football championship that they had not won for two decades. The yearly best football goal scorer also comes from this team, who happens to come from a spa town too. It is an amazing result — and the glory goes to the new coach the club brings in, and the way he manages his team. A good leader can train and run a good team. If a team is doomed to collapse, the team leader is the one who held responsible for it.
Time is both the witness and the evidence in itself.
text and photos by author 何飛